Certificate of the Month – April 2018 – FORMobile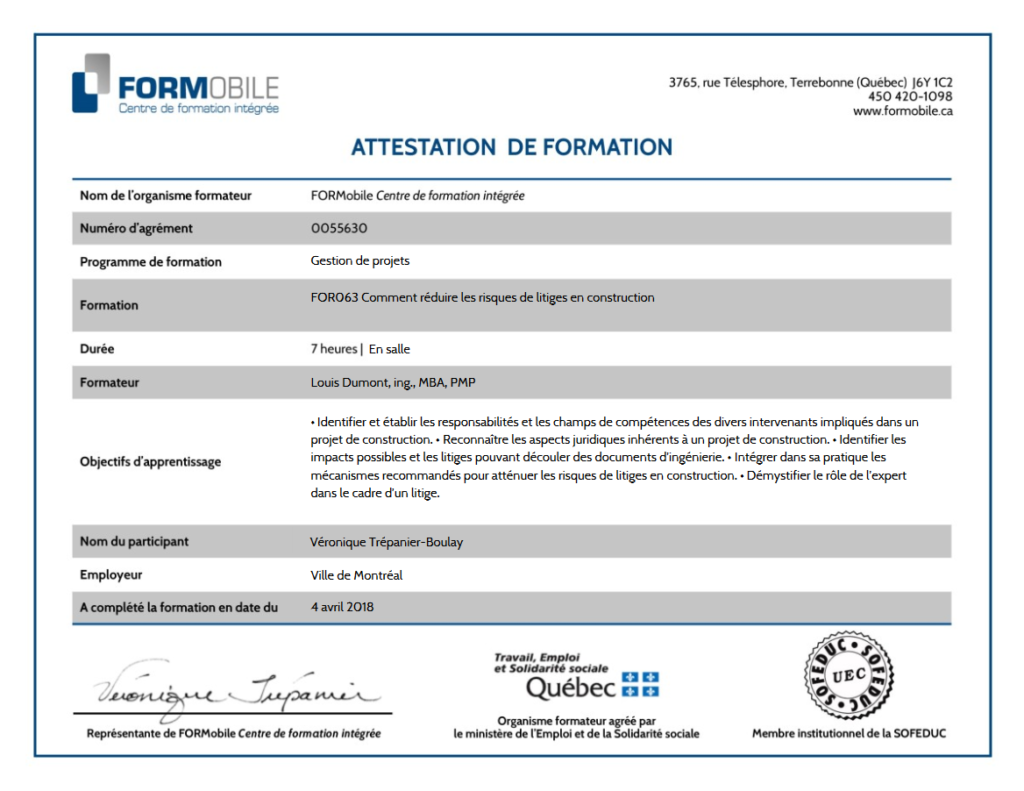 Congratulations to our next Certificate of the Month recipient, Véronique Trépanier-Boulay, Executive Director at FORMobile , based outside of Montreal in Quebec, Canada.  FORMobile provides training for engineers and professionals in the field of civil engineering, planning and construction.  FORMobile's training courses provide high quality continuing education for professionals within these industries.  Upon completion of a continuing education course, FORMobile provides a certificate of completion to professionals in each class.  FORMobile initially distributed certificates manually, but after an online search Véronique settled upon SimpleCert to automate the management and distribution of these course certifications.
"Our dedicated team is at the service of its customers and their needs – and is always looking for new methods to increase its productivity," says Véronique.  "We use SimpleCert to automatically send training certifications to our customers. It is easy to use and our customers receive their certifications rapidly. This certificate management system increases our productivity and our customers' satisfaction!"
FORMobile's certificate utilizes multiple merge fields to fully automate their certification process, as well as Véronique's actual scanned signature to create an extremely professional, and efficient certificate.  When creating her certificate, Véronique chose to upload a custom backdrop –  a blank copy of their actual certificate used to manually distribute certificates.  This allowed FORMobile's transition to SimpleCert to be seamless for regular certificate recipients.
As a French Canadian, Véronique  utilizes the multi language ability of the SimpleCert notification email, which allows      her emails to be completely in French.  This provides a high level of professionalism for FORMobile, which mirrors the objectives and design of their courses.
Congratulations to Véronique and the staff at FORMobile for being selected as a winner of the Certificate of the Month Program!  SimpleCert is proud to partner with FORMobile by providing an automated certificate management system to meet their certification needs.